Renewing Your Student in Vienna Austria. (Important information you need to know)
Some basic knowledge about Student Visas:
All Students residing in any country that does not hold a passport from that country WILL need a visa!
American's do not need to request for a visa prior to departure.
American's have the privilege to stay in a foriegn country for 3 months without the need for a visa.
People from other countries might need to apply for a visa before entering foriegn territory. (check with your embassy for more information)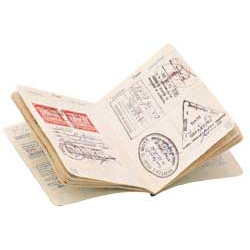 Onto about renewing your Student Visa in Vienna.
When renewing your visa you normally try to have all your ducks in a row so you don't need to be running around getting this paper and that paper. Any thinking person would think the most logical thing would be to take all the papers I had to hand in last time. So you go to your university re-enroll yourself for the next semester, keep the paper showing you have paid. You might even go to the extent of making sure you can prove your grades from the exams from the past year and showing your attendance.
Well that is a very good start, but it won't be all that you need. Even to some suprise there are some new things you will have to go for your visa that you did not have to do before.
So lets get to that part where I tell you what you are going to need and even where you are going to have to go.
Last year was my first time applying for a visa and in Vienna you normally go to the MA35 headquarter's in Traisengasse. This year when I went back I handed my visa to the front desk telling her what I wished to do, she examined my visa gave me a number and told me to go upstairs. If you have ever been in this building you know how filled it can be and how noisy it can get from all the children and babies are waiting along with their parents. I still say the numbers they hand out are in no real order and almost seeming random. So expect a 2 hour wait. When my number was finally called I went into my assigned room sat down and told the very unfriendly woman behind her desk that I need to renew my visa. She then checked my visa and asked me why did I even come to this office since it is the office for only first timers. (may I also add, in this short period of being there she sternly corrected my German pronunciation and almost got hung up on the fact that I was not pronouncing everything fluently like she)
So after dealing with lovely person she told me that every district has its own MA35 office for visa renewals. My luck was that I couldn't get there in time before they closed.
So on that note I have been given a list of all MA35 Offices for their specific districts which I will share with you, since you won't easily find it on-line on Vienna's website.
Most offices deal with more than one district.
For districts:
1, 4, 5, 6, 7, 8, and 9,
MA35 is located at 1080 Vienna Friedrich-Schmidt-Platz 3, EG, Room E44
Phone# 01 4000 01035
2, 21, and 22,
MA35 is located at 1020 Vienna, Meiereistraße 7, Sektor E, 1.Floor (stock), Room 105
Phone# +43 1 4000 DW 02035 (I personally have no clue what the DW is)
3, 10,
MA35 is located at 1030 Vienna, Am Modenapark 1-2, Stiege II, 5 Floor (stock)
Phone# 01 4000 03035
11,
MA35 is located at 1110 Vienna, Enkplatz 2, EG
Phone# 01 4000 03035
12, 13, and 23,
MA35 is located at 1130 Vienna, Hietzinger Kai 1-3, Stiege 1, 1. Stock, Zimmer 66c
Phone# 01 4000 13035
14, and 15,
MA35 is located at 1150 Vienna, Gasgasse 8-10, Erdgeschoss EG, Zimmer 27, Eingang:Staglgasse 5a
Phone# 01 4000 15035
16, 17, 18, and 19,
MA35 is located at 1160 Vienna, Richard Wagner Platz 19, 1.Stock, Zimmer 123
Phone# 01 4000 16035
20,
MA35 is located at 1200 Vienna, Dresdnerstraße 93
Phone# +43 1 4000 DW 35295
Times of Operation:
Monday, Tuesday, and Friday open from 8:00a.m. to 12:00p.m.
Thursday open from 8:00a.m. to 12:00p.m. and then 3:30p.m. to 5:30p.m.
Now that you are aware of where to go according to the district you live in here are some paper work you are going to need to have:
Your Studienblatt for the new semester and also a Studienbestätigung for the upcoming semester. This should be no problem since every time you re-enroll with your University you will be given these papers. If you have misplaced them you can always request a new one at your University. Make copies because you will want to always keep the originals.
Last 6 weeks bank statements. Most Austrian banks have Kontoauszug machines in every lobby and once a month you are allowed a free print out. They want to make sure you have enough funds to live off of. The amount really varies from person to person due to living situations and also from where people are from. It can be a question to ask before applying. Since they don't want to see a person with only 300 euros in their bank acount within a week be bumped up to 3,000 euros in a day. So make sure your bank account maintains a certain balance for a little over 6 weeks to avoid problems.
You will need atleast two passport photos for your new Visa.
Copy of Birth Certificate.
Copy of up to date Passport.
There will also be some paperwork to fill out and you can either fill it out while waiting in line or if you need help or time with filling it out go to the office for your district and pick up the application form. It is only in German, no other format.
Proof of Insurance. Easy enough just bring all your mailed statements from your insurance in Austria with you.
Proof of credit. This is the tricky one that is a new requirement that throw curveballs.
You will have to make a trip out to the KSV1870 Office which is located at Wagenseilgasse 7, 1120 Vienna. Make sure to bring your passport, and Visa or another valid form of ID. When you come into the office make sure to pick up a Selbstauskunft Für Privatpersonen paper. There will be an English format there to make it easy. You will have three options, 1 to pay for it to be sent to an address of your choosing withing a week for 29,55€ or 2 immediatly which will cost you 22,00€ and you will only have to wait 10 minutes for it or 3 wait 8 weeks for it to be absolutly free. Depending on how fast you need it you can figure out what you want to do.
When re-applying for your Student Visa you can begin the process 3 months before the expiration date, which is good so you don't have to worry about it getting down to the wire and being saved by the skin of your teeth. The down fall is you will loose the 3 months the day you start the application process is the day of expiration for next year.
Other than that there should not be too many suprises that will pop-up but there always seems to be something that will have failed and making you run around town trying to get whatever that may be. But atleast now my dear readers, you are atleast aware of some things that I found to have changed on me so hopefully you can be prepared this much.